Orthodontics: More Than Just Teeth Straightening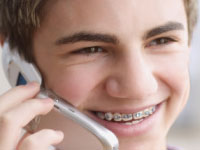 When asked what their orthodontist does, most people will answer "straightens crooked teeth." Yet there's a good deal more to it than that.
To practice in the field of orthodontics, a dentist must be trained not only in dentistry, medicine, and pharmacy, but in physics and engineering. They must have the touch of a master craftsman, and the eye of an artist. To fully serve their patients, orthodontists must be part scientist, part psychologist, part detective, and part businessman. Becoming an orthodontist requires four years of formal postgraduate training leading to a dental degree, and two more years of graduate studies in orthodontics. But their education doesn't end with a diploma. In many ways, that's where it begins.
Though it may not be obvious from the casual office visit, the practice of orthodontics has changed dramatically in just the last few years. With ongoing research have come continuing advances in ceramic, clear and invisible braces. There are more sophisticated tools to diagnose orthodontic problems, plus innovative materials and techniques to treat them. There are new drugs to control pain, and cosmetic dentistry procedures no one had heard of 10 years ago. Plus, the number of adults getting braces has risen dramatically. This means that now orthodontists must practice adult orthodontics which presents different challenges.
The field continues to change so rapidly that it's estimated orthodontists must acquire an entirely new set of knowledge every two to four years. In fact, in many states, meeting minimum standards for continuing education is mandatory for orthodontists to retain their licenses. In addition to the formal courses is all the time spent reading professional journals and reviewing new products. Fortunately, orthodontists have no lack of opportunity to learn. By the American Dental Association's count, some 3,000 to 5,000 organizations offer continuing education courses to those in the dental profession.
From the hundreds of thousands of hours of specialized training offered annually, each orthodontic professional can choose the courses he or she feels are most needed to expand and update his or her skills.
The practice of orthodontics is a profession, a science, an art, and a lifelong commitment to provide the best and most advanced possible care for your teeth.
Clear Braces: The Beauty of Choice in Orthodontics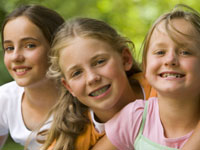 If you want to avoid looking unattractive while you straighten your teeth, you may find clear braces an attractive option.
You can get the orthodontic work you need without having to compromise aesthetics along the way.
When people say "clear braces," they usually mean what orthodontists and braces dentists call ceramic braces.
Instead of the big ugly metal brackets used in traditional braces, these braces have tooth-colored ceramic brackets that are far less noticeable.
Clear elastics and white-colored metal means everything is less visible to others.
But sometimes when people talk about "clear braces," they mean Invisalign braces or another system of clear plastic aligners.
Though they straighten teeth, they are no braces per se. The trays fit over the teeth like an ultra-thin mouth guard, slowly moving teeth into place.
They're not just invisible; they're also removable. But, as with so many other things, beauty can have its price.
Ceramic braces cost slightly more than their metal counterparts. Moreover, the ceramic brackets are somewhat more prone to breakage. And plastic aligners simply can't move teeth as dramatically as can actual braces.
Make sure you've learned the pros and cons before making a final decision.