Getting Braces: When's the Best Time?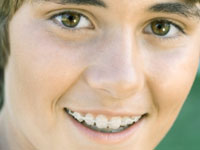 One of the questions orthodontists are most frequently asked is, "When should my child first be examined for braces?" There is not one right answer to this question. The best starting time for orthodontic appliances depends on the type of problem and its severity. Many orthodontists recommend that every child have an orthodontic evaluation at the time their permanent teeth are starting to erupt.
The timing of orthodontics treatment is important. Early examination allows an orthodontist to identify problems and determine when to treat them, for the best results with the least time and expense. For many patients, early treatment achieves results that may be impossible to attain once the face and jaws have completed their growth. In addition, early intervention makes the completion of treatment at a later age easier.
If no treatment is indicated at the initial examination, your orthodontist may simply want to check your child periodically while the permanent teeth erupt and the face and jaws continue to grow. At the initial exam the following will be evaluated: your child's facial growth (amount and direction), excess spacing between teeth, crowding, crooked teeth, extra or missing teeth, and habits that may affect growth and dental development such as tongue thrusting and thumb-sucking. These problems affect not only tooth alignment but facial appearance.
Finally, the importance of an attractive smile should not be underestimated no matter what your age. A pleasing appearance is a vital asset to one's self-confidence. A person's self-esteem often improves as treatment brings teeth, lips, and face into harmony, in this way, teeth straightening can be beneficial to social and career success and improve one's general attitude toward life.
How Do I Take Care of My Dental Braces?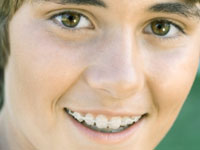 When your mouth is loaded with extras like bands, brackets, and wires, from your orthodontic braces, brushing your teeth gets tougher and extra important. Plus, dental braces interfere with the chewing process that normally bathes and exercises gums, and helps clean teeth. General dental care like caring for your teeth and keeping them cavity-free, is a top priority during orthodontics treatment.
While proper-fitting bands or brackets usually protect the covered portion of your teeth, the brackets and wires on the outside of teeth make it harder for proper dental care.
Trapped food particles and plaque are a breeding ground for cavity-causing bacteria in your dental braces. Gum disease also can develop, causing swelling and making cleaning even more challenging and painful. Improper dental care can also stain tooth enamel.
How Often Do I Need to Brush With Dental Braces?
It's best to brush within five minutes after eating anything, even if you're just snacking, and especially after a meal. Brushing away cavity-causing bacteria helps keep your teeth cavity-free. Carry a travel toothbrush in a backpack, purse or briefcase to always have on hand for brushing away from home.
How Do I Brush With Dental Braces On My Teeth?
Brush between wires and gums to loosen any food particles that may have lodged in your dental braces. There are special toothbrushes for this, check with your orthodontist or dental care provider for recommendations.
Start on the outside of your upper teeth, positioning the bristles at a 45 degree angle, toward the gum. Brush two to three teeth at a time using a circular motion, about ten strokes.
Next, brush the inner surfaces in the same manner.
Brush the chewing surfaces.
Repeat the same process for the lower teeth as for the upper ones.
Rinse your mouth as well as your toothbrush. Check your teeth in a mirror to make sure you've brushed all tooth surfaces.
Floss daily between dental braces using a floss threader.
Toothpicks, stimudents and other interdental devices work well under brackets.
You may also want to use a water oral hygiene device that helps to remove food particles from your dental braces that the toothbrush may not reach. It should be used in addition to brushing and flossing, not as a substitute for brushing.
While wearing dental braces for teeth, be sure to schedule regular dental care exams every three to six months for cleanings to keep your teeth and gums healthy. Ask your dentist and orthodontist how often they wish to see you.
By Brian J. Gray, DDS, MAGD, FICO