Adult Braces and Orthodontics: Something To Smile About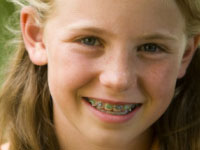 Orthodontic braces conjure up lots of images, most of them about children and the temporary metallic smiles that they cause. But many strides have been made in the world of dental braces. More adults are now choosing teeth straightening and are glad braces aren't just for kids anymore.
Why Do Adults Wear Orthodontic Braces?
Braces offer a good choice for improving your smile and oral health. Some adults have problem teeth because their parents could not afford getting braces or retainers when they were young. Or perhaps the problem with their teeth is more recent. Now, options are available for correcting them and adult braces provide many advantages.
Crooked teeth or teeth that overlap are harder to clean around. As a result, this serves as hiding places for bacteria that cause bad breath, gum disease and tooth decay.
Protruding teeth or gaps between teeth interfere with your smile and create an uneven bite, but getting braces or orthodontic appliances can straighten crooked teeth and move teeth into proper position.
Adults now enjoy the results of adult orthodontics, which so beautifully provide a healthier-looking smile. Today's braces are much less noticeable than those you may remember as a child. Taking care of your teeth sends the message that you are taking care of yourself, reflecting self-respect and confidence.
What Are My Orthodontics Choices?
The orthodontic appliances of today provide greater comfort and style than in the past. Another feature of modern adult braces is that they work more quickly than the traditional style braces, which means a shorter time to wear them and fewer trips to the orthodontist.
Older dental braces used bands that wrapped around teeth. While these are still available, other braces offer new options. One type features brackets made of metal or plastic, bonded to the teeth and used in conjunction with thin, gentle wires.
Another type of braces stay discreetly hidden from view, using brackets attached to the back of the teeth. Both types require wires to move the teeth into their correct positions. Your dentist or orthodontist will help you decide which style of braces is right for you.
Braces: An Investment of Time for Long-Term Benefits
Most patients usually wear full braces from 18 to 30 months, depending on specific treatment needs. When your dental braces are removed, retainers are used to prevent your teeth from repositioning themselves. Your orthodontist will determine how long you will have to use your retainer after treatment is completed.
How To Care for Orthodontic Braces
One thing hasn't changed: if you wear dental braces, regardless of whether they're metal or ceramic braces, you must take care of them. Careful brushing and flossing between them and under wires will keep your teeth and gums clean and healthy. Avoid eating foods that can break wires and loosen brackets such as those that are sticky (caramels and gum), hard to bite (uncut carrots, apples, and ice), or crunchy (popcorn, nuts, hard candy).
Orthodontic braces can make a world of difference and give you something to really smile about!
By Brian J. Gray, DDS, MAGD, FICO
Teen Braces: Straight Teeth In Progress!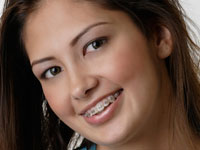 Many pre-teens and young teenagers have colorful smiles -- they wear braces. Today's teen braces bear little resemblance to the "train tracks" that baby boomers may remember from their youth -- they're updated in style and make a colorful fashion statement that's good for their teeth! You can even get invisible braces, which are made by Invisalign.
Why Do Kids Wear Braces?
It's not surprising that many teenagers wear braces. Dental experts estimate that more than two-thirds of the population need braces to correct dental problems that occur, including teeth that protrude or are crooked, teeth that overlap and crowd each other, and teeth that have gaps between them. In addition, some children need braces to align their teeth and correct their bite. Whatever the condition, children recognize that they will enhance their appearance in the long term. Parents know that they are actually making an investment in their child's health and appearance. Now with invisible braces children won't have to be self conscious of their smile when the are wearing orthodontic braces!
What Happens If They Don't Get Orthodontic Braces?
Not everyone who needs orthodontic braces gets them. Children who have problems with their teeth will not outgrow them, nor will their teeth "just take care of themselves." Crooked teeth or overlapping teeth will stay that way, and will be difficult to clean, which can lead to bacteria growth and gum disease. Bites that need correcting will cause difficulty in biting or chewing as time goes on. Teeth that are not aligned correctly may wear the enamel more quickly, which exposes the teeth to more damage.
When Should My Child Visit an Orthodontic Dentist?
It's a good idea to schedule an appointment with an orthodontist when your child's permanent teeth appear, sometime between the ages of five and seven. Your family dentist may recommend an orthodontic dentist in your area if he isn't able to fulfill your needs. You may also ask friends whose children have had orthodontic braces if they have any recommendations.
An early appointment is advised to spot any potential problems that require treatment. Timing is critical since delaying treatment can multiply some dental problems. The orthodontist will be able to tell you how your child's mouth is developing and whether any problems exist. At early ages, children's jaws are still growing; at about age 12, the mouth and jawbones begin to harden. Some children at the earlier ages require a retainer, which sometimes eliminates the need for teen braces at a later age. After this age any structural work may require complex surgery so early treatment is advised.
Smile - Straight Teeth in Progress!
Because so many children have braces these days, much of the stigma of teen braces has disappeared. In fact, teen braces are often viewed as a fashionable rite of passage. While your child may experience some good-natured ribbing at first, chances are that lots of classmates have braces, too. Remind them that their smile -- and their dental health -- is important to you, and that it won't be long before the braces give way to straight, healthy teeth, guaranteed to make them smile! Plus invisible braces by Invisalign could allow your child to repair crooked teeth and have the smile they have always wanted without the teasing from their peers.
By Danine M. Fresch, D.D.S.