Invisalign Orthodontics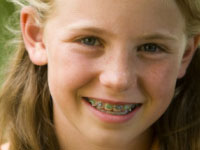 Ever wish that you could have teeth straightening done, without months of wearing those geeky metal braces? And wouldn't it be nice to get your crooked teeth straightened without anyone outside the family even knowing about it?
Believe it or not, there's a new way to straighten teeth with invisible braces. And your orthodontist can walk you through it!
The process is called Invisalign®, because it uses a series of nearly undetectable aligners instead of brackets and wires. Even up close it's really hard to see that you're wearing orthodontic appliances. So now you can have the smile you've always wanted…without the dental braces you've always avoided.
Invisalign can be just as effective as wire braces. Treatment takes about the same amount of time but is far more comfortable! And because Invisalign is removable, you'll have no problem eating, brushing or flossing.
Here's how it works: an examination is done to determine if Invisalign is right for you. If things look promising, photographs and X-rays are taken and an impression of your teeth is made. Then they are submitted to an Invisalign specialist. The specialist, after verifying that Invisalign will work for you, creates a treatment plan.
A smile of straight teeth starts with a phone call to your orthodontist's office. Why not do it today and find out how an Invisalign smile could change your life!
Orthodontic Dentistry - Now Adult Braces Are Available!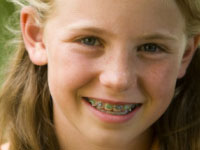 One of the genuine rewards of the new orthodontics dentistry is the adult patient who is willing to wear braces, do the "home" work, and who is excited by the prospect of having straighter teeth and a more perfect bite. As they say in baseball, it's a whole new ball game.
Thanks to the new orthodontic dentistry materials available today, we can offer visible or invisible braces -- adult braces made with space-age metals, braces glued to the back of the teeth. But that's just the "office" part.
Some orthodontic dentists would even argue that the most critical aspect of orthodontic dentistry treatment is how patients do their "home" work. Braces need constant cleaning. There's a rigid retainer schedule to follow. Certain foods must be avoided. It's a challenge. But once committed, adult patients understand what needs to be done and are willing to do it to get what they want from adult braces. They've made the investment in time and money. So they're willing to make the sacrifices (no caramels!) to get the results.
If Mother Nature let you down and your mom couldn't afford orthodontia, call us. It's never too late to get the perfect smile with adult braces and orthodontic dentistry!