Orthodontics and Tooth Braces: You and Your Smile Are Worth It!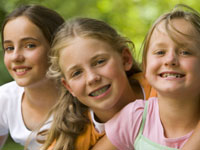 Our jaws do more than chew, grind and tear our food. They also help us swallow and enable us to experience normal speech. And, they contribute to our basic oral health. But most of us take our jaws for granted.
Orthodontics dentists know that when jaws meet correctly and teeth are configured properly, it's called occlusion. When things don't fit, that's malocclusion. About two million Americans suffer from malocclusion. Tooth braces can help improve the effects of malocclusion and other orthodontic problems.
For 20% of us, jaw problems are a handicap. For 5% of us, malocclusion can be considered a physical and mental hardship. Tooth braces and orthodontics make it possible to eat, breathe, and communicate normally.
Tooth braces can literally affect the quality of life in the most fundamental ways and give you the smile you have always wanted.
Orthodontic Dentistry - Now Adult Braces Are Available!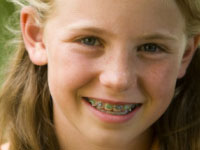 One of the genuine rewards of the new orthodontics dentistry is the adult patient who is willing to wear braces, do the "home" work, and who is excited by the prospect of having straighter teeth and a more perfect bite. As they say in baseball, it's a whole new ball game.
Thanks to the new orthodontic dentistry materials available today, we can offer visible or invisible braces -- adult braces made with space-age metals, braces glued to the back of the teeth. But that's just the "office" part.
Some orthodontic dentists would even argue that the most critical aspect of orthodontic dentistry treatment is how patients do their "home" work. Braces need constant cleaning. There's a rigid retainer schedule to follow. Certain foods must be avoided. It's a challenge. But once committed, adult patients understand what needs to be done and are willing to do it to get what they want from adult braces. They've made the investment in time and money. So they're willing to make the sacrifices (no caramels!) to get the results.
If Mother Nature let you down and your mom couldn't afford orthodontia, call us. It's never too late to get the perfect smile with adult braces and orthodontic dentistry!