Orthodontics and Tooth Braces: You and Your Smile Are Worth It!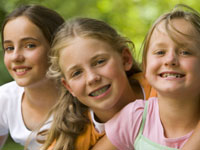 Our jaws do more than chew, grind and tear our food. They also help us swallow and enable us to experience normal speech. And, they contribute to our basic oral health. But most of us take our jaws for granted.
Orthodontics dentists know that when jaws meet correctly and teeth are configured properly, it's called occlusion. When things don't fit, that's malocclusion. About two million Americans suffer from malocclusion. Tooth braces can help improve the effects of malocclusion and other orthodontic problems.
For 20% of us, jaw problems are a handicap. For 5% of us, malocclusion can be considered a physical and mental hardship. Tooth braces and orthodontics make it possible to eat, breathe, and communicate normally.
Tooth braces can literally affect the quality of life in the most fundamental ways and give you the smile you have always wanted.
Orthodontic Dentistry with Invisalign Braces - Invisibly Straighten Your Teeth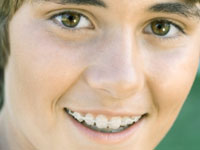 A vast majority of adults and adolescents can be helped with Invisalign invisible braces treatment. Invisible braces are one of the cosmetic dentistry options that can work for your teeth!
Invisalign treats a wide variety of cosmetic dentistry cases, including crowding, space closure, narrow arches, relapse, anterior intrusion, and limited treatment cases.
Are Invisible Braces Right For You?
Although only an Invisalign certified orthodontist in cosmetic dentistry can determine if invisible braces are right for you as adult braces, there's a quick way to tell if you might be a candidate. Call your orthodontist for an evaluation today.