Getting Braces: When's the Best Time?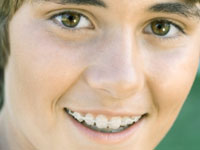 One of the questions orthodontists are most frequently asked is, "When should my child first be examined for braces?" There is not one right answer to this question. The best starting time for orthodontic appliances depends on the type of problem and its severity. Many orthodontists recommend that every child have an orthodontic evaluation at the time their permanent teeth are starting to erupt.
The timing of orthodontics treatment is important. Early examination allows an orthodontist to identify problems and determine when to treat them, for the best results with the least time and expense. For many patients, early treatment achieves results that may be impossible to attain once the face and jaws have completed their growth. In addition, early intervention makes the completion of treatment at a later age easier.
If no treatment is indicated at the initial examination, your orthodontist may simply want to check your child periodically while the permanent teeth erupt and the face and jaws continue to grow. At the initial exam the following will be evaluated: your child's facial growth (amount and direction), excess spacing between teeth, crowding, crooked teeth, extra or missing teeth, and habits that may affect growth and dental development such as tongue thrusting and thumb-sucking. These problems affect not only tooth alignment but facial appearance.
Finally, the importance of an attractive smile should not be underestimated no matter what your age. A pleasing appearance is a vital asset to one's self-confidence. A person's self-esteem often improves as treatment brings teeth, lips, and face into harmony, in this way, teeth straightening can be beneficial to social and career success and improve one's general attitude toward life.
Orthodontics: More Than Just Teeth Straightening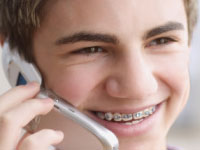 When asked what their orthodontist does, most people will answer "straightens crooked teeth." Yet there's a good deal more to it than that.
To practice in the field of orthodontics, a dentist must be trained not only in dentistry, medicine, and pharmacy, but in physics and engineering. They must have the touch of a master craftsman, and the eye of an artist. To fully serve their patients, orthodontists must be part scientist, part psychologist, part detective, and part businessman. Becoming an orthodontist requires four years of formal postgraduate training leading to a dental degree, and two more years of graduate studies in orthodontics. But their education doesn't end with a diploma. In many ways, that's where it begins.
Though it may not be obvious from the casual office visit, the practice of orthodontics has changed dramatically in just the last few years. With ongoing research have come continuing advances in ceramic, clear and invisible braces. There are more sophisticated tools to diagnose orthodontic problems, plus innovative materials and techniques to treat them. There are new drugs to control pain, and cosmetic dentistry procedures no one had heard of 10 years ago. Plus, the number of adults getting braces has risen dramatically. This means that now orthodontists must practice adult orthodontics which presents different challenges.
The field continues to change so rapidly that it's estimated orthodontists must acquire an entirely new set of knowledge every two to four years. In fact, in many states, meeting minimum standards for continuing education is mandatory for orthodontists to retain their licenses. In addition to the formal courses is all the time spent reading professional journals and reviewing new products. Fortunately, orthodontists have no lack of opportunity to learn. By the American Dental Association's count, some 3,000 to 5,000 organizations offer continuing education courses to those in the dental profession.
From the hundreds of thousands of hours of specialized training offered annually, each orthodontic professional can choose the courses he or she feels are most needed to expand and update his or her skills.
The practice of orthodontics is a profession, a science, an art, and a lifelong commitment to provide the best and most advanced possible care for your teeth.