Orthodontic Braces: Preventing Playground Teasing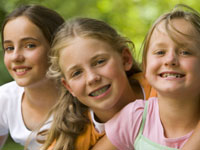 Sticks and Stones and The Halo Effect
Beauty is good. Beauty is character. Beauty is competence. That's the "halo effect." And the halo effect is alive and well and living on playgrounds everywhere.
What's the effect of the halo effect?
Not so good, if you're one of the unfortunates without a halo. Especially if you're a child called Beaver or Dopey or Goofy.
Not so long ago, a study of British schoolchildren revealed that the appearance of teeth was the fourth most common target for teasing. Children suffered under nicknames like Bugs Bunny, Fang and Dracula. Furthermore, children who were teased were twice as likely to be harassed, subject to verbal or physical intimidation, lying or other abuses, than children who were not teased.
Although height, weight and hair were also factors in teasing, ridicule about their teeth caused children the greatest amount of unhappiness.
Researchers were concerned that exposure to the sustained taunts and insults of peers would predispose some children to a lowered self-confidence and self-image.
The Solution? Orthodontics — The Sooner The Better
Thousands of children need early care — some as young as three years old. Early diagnosis and monitoring allows us to take full advantage of a time when your child's bone and facial structure are easier to shape.
If you think the odds of a young child having orthodontic problems are remote, consider these facts: Two out of three people have orthodontic problems, which should be treated. A fourth of the problems are severe, says the American Association of Orthodontists. Orthodontic defects aren't limited to protruding teeth or underbites.
Often the problems relate to the overall structure of the mouth and face. Frequently they don't show up in a smile at all.
That's why an orthodontic checkup and braces, if necessary, should be a part of every child's health care program.
Orthodontic Dentistry Frequently Asked Questions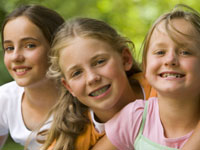 Q. What is orthodontic dentistry?
A. Orthodontic Dentistry or Orthodontics is described by the American Association of Orthodontics as the branch of dentistry that specializes in the diagnosis, prevention, and treatment of dental and facial irregularities.
Q. What is an orthodontist?
A. An orthodontist is a dentist who has undergone specialized orthodontic training to diagnose, prevent, and treat dental and facial irregularities in patients.
Within the U.S., orthodontists are required to complete a two- to three-year advanced residency program in orthodontics following the completion of their four-year graduate dental program. Each of these programs must be accredited by the American Dental Association's Commission on Dental Accreditation.
Q. What causes orthodontic problems?
A. Most problems are inherited, including tooth size and jaw size. These orthodontic problems may lead to crowding of teeth or spacing of teeth.
Overbites, underbites, extra or missing teeth, and irregularities of the jaws, teeth and face also are inherited.
Other orthodontic problems can be caused by accidents, pacifier or thumb sucking, dental disease, or the premature loss of either the primary or permanent teeth.
Q. What habits contribute to "bad bites"?
A. A number of childhood habits can lead to orthodontic problems, such as thumb or finger sucking, sucking on a pacifier, sucking on a lip, mouth breathing (often caused by enlarged tonsils and adenoids), fingernail biting, and "tongue thrust."
Q. When should a child's screening with an orthodontic dentist be scheduled?
A. The orthodontic dentist will advise the parent as to when to schedule an evaluation. It generally will be when the child is between the ages of seven and ten.
An early consultation is advised to identify any potential problems that require treatment. Delaying treatment can multiply some orthodontic problems.
Between the ages of 8 and 12, jaws are still growing; after that, the jawbones begin to harden and it may be more difficult to correct certain conditions.