New Orthodontic Appliance Can Correct Overbite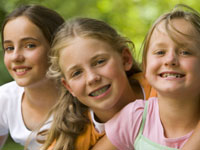 Eleven-year-old Janet had a severe overbite and she was serious about improving her smile. "Her overbite was so obvious, I just knew something was wrong. I was afraid she would have problems with her mouth when she got older," recalled Janet's mother.
Most people think an overbite is caused when the upper teeth stick out. Actually, most overbite problems result from a short lower jaw. With modern techniques and a willing child, an orthodontist can help the short lower jaw grow in to line with the upper teeth. In the past the only solution to Janet's problem was headgear that would pull the upper teeth back to match the lower jaw. But Janet's new smile was shaped in just nine months without traditional braces or headgear.
She was one of a growing number of patients able to benefit from a device designed in Europe called a Bionator. Unlike traditional braces, the plastic and wire device is removable, but only for cleaning and eating. Patients must learn to wear it for more than 20 hours a day.
Orthodontic attention while a child is young can often straighten out crooked teeth before they have a chance to get worse. By redirecting the growth of the jaw, orthodontics can often enhance features in the middle and lower parts of the face. Results can be quite striking. In Janet's case, she became more enthusiastic and outgoing as her smile and self-image improved.
Other types of braces that are available today are invisible braces, clear braces, ceramic braces, and a procedure known as Invisalign® .
When children become aware of themselves and those around them, one of the first things they notice is the face. And nicknames like "Fang and "Buck Beaver" can leave a permanent mark on childhood memories. Unfortunately, children can be brutally cruel to each other because they are brutally honest. Correcting an overbite by controlling the source of the problem, jaw growth, orthodontics can help children face growing up with zeal and self confidence.
Orthodontics: More Than Just Teeth Straightening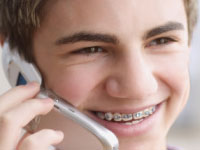 When asked what their orthodontist does, most people will answer "straightens crooked teeth." Yet there's a good deal more to it than that.
To practice in the field of orthodontics, a dentist must be trained not only in dentistry, medicine, and pharmacy, but in physics and engineering. They must have the touch of a master craftsman, and the eye of an artist. To fully serve their patients, orthodontists must be part scientist, part psychologist, part detective, and part businessman. Becoming an orthodontist requires four years of formal postgraduate training leading to a dental degree, and two more years of graduate studies in orthodontics. But their education doesn't end with a diploma. In many ways, that's where it begins.
Though it may not be obvious from the casual office visit, the practice of orthodontics has changed dramatically in just the last few years. With ongoing research have come continuing advances in ceramic, clear and invisible braces. There are more sophisticated tools to diagnose orthodontic problems, plus innovative materials and techniques to treat them. There are new drugs to control pain, and cosmetic dentistry procedures no one had heard of 10 years ago. Plus, the number of adults getting braces has risen dramatically. This means that now orthodontists must practice adult orthodontics which presents different challenges.
The field continues to change so rapidly that it's estimated orthodontists must acquire an entirely new set of knowledge every two to four years. In fact, in many states, meeting minimum standards for continuing education is mandatory for orthodontists to retain their licenses. In addition to the formal courses is all the time spent reading professional journals and reviewing new products. Fortunately, orthodontists have no lack of opportunity to learn. By the American Dental Association's count, some 3,000 to 5,000 organizations offer continuing education courses to those in the dental profession.
From the hundreds of thousands of hours of specialized training offered annually, each orthodontic professional can choose the courses he or she feels are most needed to expand and update his or her skills.
The practice of orthodontics is a profession, a science, an art, and a lifelong commitment to provide the best and most advanced possible care for your teeth.