Invisalign Braces Treatment, Find an Orthodontist or Orthodontic Dentist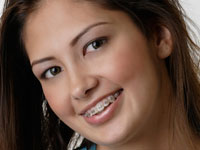 Getting started couldn't be easier. In fact, your crooked teeth could be straighter teeth, and your smile, more beautiful, within weeks of receiving Invisalign invisible braces from your orthodontist.
Step 1: Visit Your Orthodontist
During this first step you will need to make an appointment with an Invisalign Certified Orthodontist. During the initial visit, your orthodontics professional will help you decide on your course of teeth straightening treatment. He will take bite impressions of your teeth and send them, along with a set of precise instructions, to Invisalign.
Step 2: Invisalign Makes Your Aligners
Invisalign uses advanced 3-D computer imaging technology to transform your bite impressions into a custom-made series of clear and removable invisible braces. There may be as many as 48 in the series or as few as 12, depending on your individual Invisalign clear braces treatment plan.
Step 3: You Receive Your Invisalign Aligners in a Few Weeks
During your next visit to your orthodontist, you will receive your first set of Invisalign aligners. Your orthodontist will most likely give you a few additional sets for you to wear before you return for your next visit.
Step 4: You Wear Your Invisalign Aligners
You'll wear each set of clear Invisalign braces day and night for about 2 weeks, removing them only to eat, drink, brush and floss. Total treatment time averages 9-15 months, but will vary from case to case. You'll visit your orthodontist only about every 6 weeks to ensure that your Invisalign treatment is progressing as planned.
Step 5: You've Finished The Invisalign Treatment
Congratulations! When you're finished wearing each aligner in the series, your Invisalign teeth straightening treatment will be complete and you will have the beautiful smile you've always wanted.
Adult Orthodontics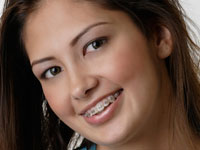 When most orthodontists meet an adult patient intent on correcting crooked teeth, they usually take it slow. Amid all the brouhaha about adult braces there are oral health concerns exclusive to adults that will affect how to plan the treatment.
A touch of gum disease
Because crowded teeth and misaligned jaws are often difficult to keep clean, some adult patients have a degree of gum disease. These patients should be referred to a dental hygienist or a periodontist for cleaning and gum therapy before teeth straightening starts. Then, during orthodontic treatment, your orthodontist will need to be especially alert to new outbreaks. He or she may want to apply less pressure orthodontically early in treatment, so gum tissue attachments have a chance to strengthen. For more information on gum therapy or dental cleanings, please visit our gum disease and hygiene sections for more articles.
What about missing teeth?
Orthodontic appliances need to be attached to something to provide the "push" and "pull" that move teeth. If key anchor teeth are missing, restorative dentistry may be suggested before the appliance can be placed.
Bite problems
More and more patients with temporomandibular or jaw joint problems (TMJ) are beginning to be seen by many dentists. TMJ disorders are very painful, and may result in uneven wearing of teeth or a jaw way out of position. The priority before teeth straightening is to address the jaw problem, and try to correct the bite before any more stress is added to the situation. So in the end you'll finish your orthodontic program with healthier gums, rejuvenated bone, a better bite, and a great smile to boot.